We decided to have a handmade Christmas. To be honest, they are mostly hand made anyhow, but for my 6 year old Granddaughter is was good for her to see how much thought and effort goes into all those handmade things.
For instance, to make her Mom's tote she enlisted Grammy help. She picked the fabric and helped make the pattern on freezer paper. She had to measure, use a ruler, do fractions, cut some, pin a lot, help with sewing.
She was also introduced to the "magic" tube turner.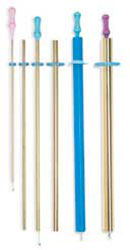 I bought my Fast Turn tube turner set-I think in 1978. It cam in a pretty silver foil box and cost me $20--a pricey set of tools back then--but oh so worth it.! She was convinced I was crazy and had sewn it backwards until she pulled enough to see it coming out right-sides out! The joy of watching happy amazement in a child's eyes!
She used the long chopsticks to poke corners, and watched the magic again as she turned the bag inside out (it was lined so it was pretty inside and out)-and bad Grammy did not get a picture of the bag.
So here are some of the Christmas gifts that couldn't be shown:
This ended up larger than I thought- I did read the instructions and I did cut it--I was just surprised a bit by its size-but Wally the Whale was a hit!
The whole grand-kid menagerie
and the daughters annual bear
Been working on cleaning the sewing room up, and mending.
yeah--the necessary evil-mending.
I got these templates for Christmas from the hubby
So will be starting to cut for a Patchwork of the Crosses quilt.
What are you sewing/quilting?