Washed I ready to iron on the left
now ironed on the right -
and handed off to my daughter for delivery. She is my ultra helper!
16 valances to go...
After the valances are done my next project is
TROPICAL RAINBOW by
Bradley and Judy Niemeyer
for the Quiltworx
2013
TUMBLEWEEDS
AND
TROPICAL RAINBOW
CONTEST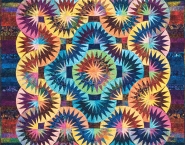 This is the box of directions and foundation papers
These are my fabrics:
I was tickled to see that some of them are the same as I have used in other recent projects, especially my
"Hearts on a String".
My favorite of the fabrics
The quilt top only has to be completes by Sept 1st to enter the contest, lets hope I can do it....
After that (or during gotta take a break moments) I will be work on Quiltsmarts
Bitty Broken Lone Star
These are my fabrics. The background will be black, backing the teal, and I have not decided whether the inside border will be orange or teal...gotta wait till the star is done..
The onto another quiltworx contest--
this one I have till June 2014, but is had to be completed as in quilted and bound by then. My fabrics:
My box of instructions, foundation papers and applique patterns:
Yeah, I am gonna be busy! :-)
And there will be some Christmas present making in there somewhere..its coming sooner than we think!
No on to those valances...